Whether you are a winter sports enthusiast with years of experience hitting the slopes or wanting to use ski or snowboard rentals for the first time, Base Mountain Sports carries a vast inventory of top-of-the-line equipment that can help you tackle the slopes in style and comfort. With locations throughout Colorado in Breckenridge, Vail, Avon, and Beaver Creek, Base Mountain Sports can provide you with the snowboard rentals you need to make the most of your vacation.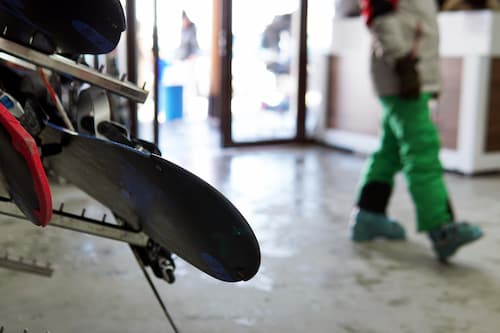 High-Quality Equipment Rentals
You need high-quality gear if you want to tackle the Colorado slopes successfully. If you plan to visit Breckenridge, Colorado, or one of its surrounding towns during ski season, you need equipment from the best ski brands available to keep you safe and warm on the slopes. In addition to carrying items such as snowboard boots, helmets, and ski boots from top-of-the-line brands you love, we also have ski and snowboard gear for rent. Renting the equipment you need allows you to hit the slopes without spending a ton of money if you aren't able to participate in winter recreational activities regularly.
Colorado Snowboard Rentals & Equipment
In addition to ski rentals, we also offer snowboard rentals! You are free to rent equipment for the afternoon or for the entire week, and we'll even store your gear for free when you aren't on the slopes. If you're looking for the best Colorado snowboard rentals, Base Mountain Sports is the place to go. If the location you are nearest to, doesn't have the equipment you need, we'll find the gear at one of our other stores so you never have to compromise on the equipment you want.
While we carry a vast inventory of snowboards to rent or buy, we never compromise on quality. You can be sure that every snowboard we stock is built to withstand the wear-and-tear of the Colorado mountains, and because many of our staff members are avid snowboarders themselves and have used our products, you can trust us to give an honest review so you can find the snowboard model that fits your needs. We have snowboards that are suitable for all ages and skill levels, and our passionate staff members can help you decide which rental is best for you. To accommodate various needs and comfort levels regarding snowboards, each of our locations offers a variety of snowboard rental packages.
Demo Snowboards (Gold Package)
This rental package is ideal for intermediate to advanced snowboarders. Our selection of snowboards for rent includes equipment made with the latest technology. These snowboards are designed for speed so you can feel confident tackling slopes and tough terrain in a variety of weather conditions. We also rent out and sell the boots and bindings you need to successfully navigate the slopes of Colorado.
These advanced snowboards can handle any type of terrain, but they are best suited for steep trails with packed snow. Conditions like these allow for a smooth, quick ride down the mountain, so if speed is your thing, this is the right package for you. There are many snowboard models available in this package, including the ones listed below.
● The Salomon Assassin
● The Never Summer Proto Type 2
● The Never Summer Women's Proto Type 2
Performance Snowboards (Silver Package)
The silver package is our most popular rental for snowboards. It features all-terrain snowboards that carry beginner to intermediate snowboarders down moderate slopes safely. These products work well on the deep snow at the top of the mountain but also function with smaller amounts of snow accumulation, so they work in any weather conditions. Similar to the Gold Package, our Silver Package rentals also come with boots and bindings.
These snowboards aren't quite as easy to ride as the models in our Gold Package, but they offer quick rides in smooth conditions. They also work well when snow isn't well-packed, so you can feel safe as you glide down the mountain regardless of conditions. This is the best rental option for people who are comfortable on snowboards but aren't quite ready for the steep trails at the top of the mountain.
Junior Snowboards (Bronze Package)
If you are new to snowboarding or have kids who are ready to try the sport for the first time, this package is perfect. These all-mountain snowboards are ideal for light weather conditions. While they aren't built for excessive speed, they will help you learn how to navigate mild to moderate slopes successfully. This is the best package to start with before moving up to more advanced options on future visits.
These snowboards work well on any type of snow so they are perfect for beginners. Wider and sturdier than more advanced models, these beginner snowboards are perfect for helping you balance and learn how to navigate the mountain. Use them to get a feel for what the mild slopes are like and master the beginning level of snowboarding before you tackle more adventurous trials.
Reserve Snowboard Rentals at Base Mountain Sports in CO
At Base Mountain Sports we want to make your trip to the Colorado Rockies is memorable whether you are here for a romantic getaway with your significant other or a fun family vacation. Our tiered rental packages are designed to help you find the perfect snowboard for your skill level so you can tackle the slopes with confidence. If you aren't sure which one is best for you, talk with one of our staff members to determine your skill level. Because our team is made up of outdoor enthusiasts like you, you can trust that we know what we're doing when we made recommendations on which ski rental package is best for you.
You don't have to wait until you get here to reserve your snowboard rentals. Booking your reservation online means you are more likely to get the gear and equipment you want, and it will also qualify you for a discount of 20%. Once you've reserved your rental package, all you have to do is check-in at one of our locations and pick up the equipment. If for any reason you decide to upgrade your package during your stay in Colorado, we can do that for you free of charge. Each of our store locations is within walking distance of numerous ski lifts so you don't have to wait long to hit the slopes, and if you're with a large group of 15 or more people, you qualify for a discount.
Base Mountain Sports' Colorado Rental Locations
Base Mountain Sports has several locations throughout Colorado so that wherever you plan to travel to hit the slopes, you have access to durable, high-quality equipment that works in all weather conditions.
● Vail, CO
● Avon, CO
Travel to Breckenridge to hit some of the most adventurous terrain Colorado has to offer, or venture to Vail Village to browse a great selection of small shops while you take a break from the mountain slopes. Beaver Creek is a premier snowboarding destination, while Avon Wyndham is an ideal location for family vacations. Regardless of which location you choose, you can find a Base Mountain Sports ready to provide you with winter gear and ski or snowboard rentals so you can make the most of your visit to the Colorado Rockies. Visit our website today to browse our packages and rent a snowboard for your upcoming vacation. Contact us today!
Featured Image Credit: By Orsan Elitok