While skiing and snowboarding are two of the most popular outdoor recreational activities available in the Colorado Rockies, you can also enjoy the stunning scenery by biking along the gorgeous trails that wind through the mountains. Having the right bike is important for tackling the rough terrain of the trails successfully, and Base Mountain Sports has a great variety of mountain bike rentals for the whole family to enjoy.
Our Mountain Bike Rental Shop
If you want to bike through White River National Forest, you need a tough bike that can tackle treacherous mountain trails. We carry durable bikes and accessories so that you can make the most of your vacation here in Colorado.
At Base Mountain Sports, we carry mountain bikes that are suitable for riders of all skill levels. Each MTB rental comes with necessary accessories such as helmets, and you can also include other accessories in your rental package to make your trip more convenient. Book online for a planned bike excursion during your trip, or stop in one of our Base Mountain locations in Beaver Creek and Breckenridge to see the rentals that are available.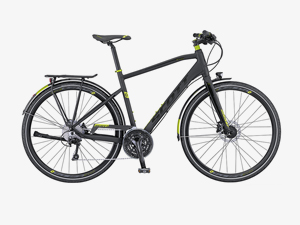 Demo Mountain Bike – Scott Genius
This powerful bike was built to tackle tough mountain trails! It climbs steep hills smoothly and easily and has a descent that is quick and steady, making for an extremely comfortable ride up or downhill. The incredible full suspension makes this bike suitable for riding over any type of mountain terrain.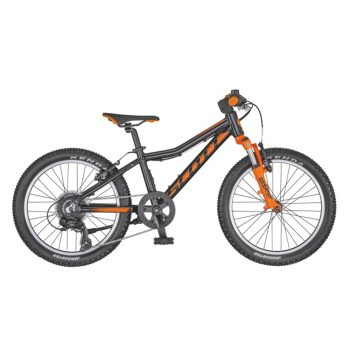 Mountain Bike – Scott Jr
This bike has all of the power and durability of the original model but is built for little legs. Whether your kids are experienced mountain bikers, or this is their first time on the trails, they can keep up with you on this rental.
Searching for "Mountain Bike Rental Near Me"?
You don't have to plan to spend a day biking to enjoy the activity. If you have some free time during your trip to Vail, Colorado, you can search for a "mountain bike rental near me" and find great options at Base Mountain Sports. We offer both full and half-day rentals so you can choose the one that best meets your needs.
Bicycle Rental Accessories
While mountain bikes are the first pieces of equipment you need to enjoy a day on the trails or a chosen bike path you also need accessories. Our store stocks activewear and water bottles so you can stay comfortable on your ride, and we also offer accessory rentals.
Helmet Rental
Treacherous terrain on the trails makes helmets a necessity for biking safely. Every bike rental comes with a helmet so you feel confident tackling any type of terrain.
Tag-A-Long
Got a kid that isn't quite up to the task of pedaling alone on the mountain trails? No problem! Rent a tag-a-long to attach to your bike so that your child doesn't have to miss out on all of the fun.
Bike Trailer
Not everyone is equipped to carry a bike to a trail head. If you don't have a bike trailer of your own and want to transport your rentals uphill, just rent one of our bike trailers.
Base Mountain Sports Mountain Bike Rental Locations
Whether you're visiting Breckenridge or Beaver Creek, you have access to great mountain bike rentals at Base Mountain Sports. We have two locations that offer rental bikes for the summer season, and you are free to return your rental to either one.
Breckenridge, CO
Breckenridge may be a premier destination for summer outdoor recreation and a great spot for mountain biking trails. Stop in our store to pick up a bike rental and browse our vast inventory of great outdoor gear and accessories from brands you love and trust. If you are looking for mountain bike rentals in Breckenridge, CO, stop by Base Mountain Sports shop.
Beaver Creek, CO
Nestled at the base of the Colorado mountains, Beaver Creek is a quiet tourist town that has all of the same activities as Breckenridge with a calmer atmosphere. Visit our laid-back shop to choose the bike rental that best meets your needs and find great prices on the equipment you need to make your trip a success.
If you're looking for a summer activity that allows you to enjoy the beautiful landscape of the Colorado mountains, give mountain biking a try. Base Mountain Sports has rental bikes for riders of all skill levels, so you know that you can find one that meets the needs of every member of your family. Whether you're preparing for an upcoming trip to Colorado and want to rent a bike in advance, or you prefer to stop in spontaneously to see which rentals are available, we have you covered. Contact us today to get started.
More from Base Mountain Sports
Featured Image: anatoliy_gleb/Shutterstock