If you want to explore all of the gorgeous scenery that the Colorado Rockies have to offer but don't feel comfortable tackling the many trails that wind through the slopes, cruisers and electric bike rentals could be the perfect recreational activity for you. Base Mountain Sports has you covered with a variety of great options and all of the gear and accessories you need to make the most of your excursion.
Electric Bike Rental
Electric bikes are great whether you need help tackling a treacherous trail or want to cruise through town in style. New technology allows these bikes to mimic the pedaling motion and take over when you start to tire, so you can feel more confident in your ability to tackle any trail like a pro. Base Mountain Sports has plenty of e-bikes / electric bike rentals to find a suitable model for everyone in your group.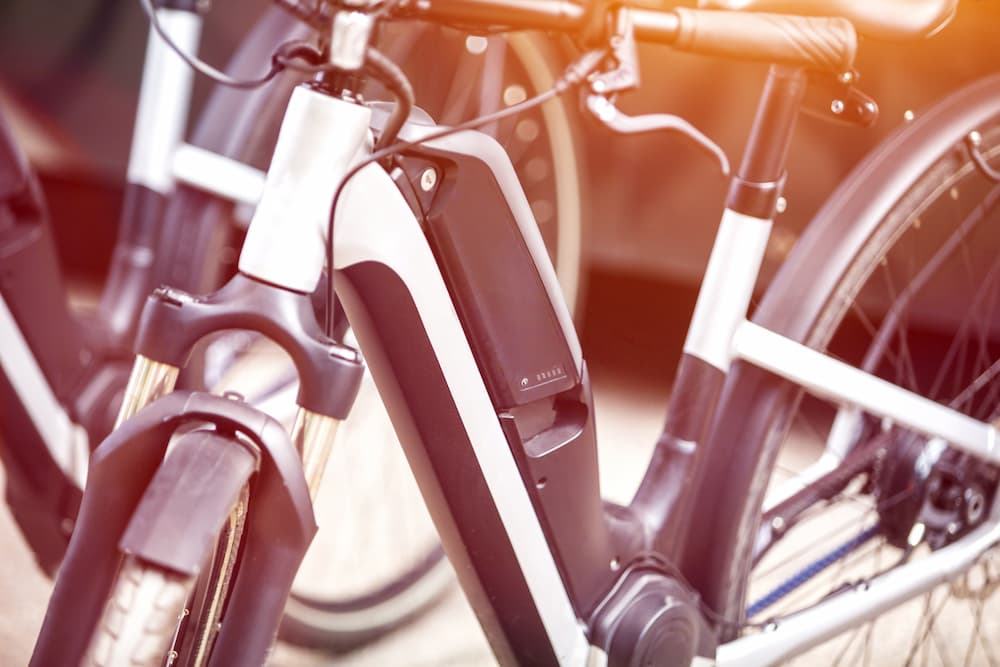 Whether you're an experienced off-road rider or tackling the trails for the first time, an electric bike is a fun way to enjoy the mountain. We offer great rental packages with all of the accessories you need to have a fun, successful ride. Let Base Mountain Sports handle your electric bike rental needs!
Electric Bike – Rossignol E-Track 27+
Designed with power in mind, this incredible model makes it easier to ride any trail. It makes descending the mountain faster and more fun while making the uphill climb easier, so if you're into electric bikes, make sure to give this model a try.
Find "Electric Bike Rental Near Me"
If you're interested in renting an electric bike near you during your visit to the Colorado Rockies, look no further than Base Mountain Sports for all of your rental needs. You can choose between a four-hour or all-day rental to accommodate your individual needs. Every rental comes with the bicycle accessories you need to make the most of your ride. Plus, our shop locations also stock a vast array of outdoor gear, so you'll find anything you need quickly and easily.
Cruiser Bike Rentals
Cruiser bikes are perfect for exploring the scenic roads that wind through the Colorado Rockies. Lightweight and agile, these bikes cruise easily over pavement for a smooth, comfortable ride. Stop by Base Mountain Sports for your cruiser bike rental needs this summer. We carry cruiser bikes for the entire family to enjoy. Both experienced riders and newbies can enjoy the smooth rides that come with cruiser bikes and will love the speed and agility that these bikes offer.
Cruiser/Bike Path- Scott Sub Speed
Designed with comfort in mind, this model features a standard Scott seat and a lightweight frame that will carry you everywhere you need to go. You can easily navigate paved roads and narrow paths with this bike.
Find "Cruiser Bike Rental Near Me"
Base Mountain Sports has everything you need for successful cruiser bike rentals. Whether you live here and just want to enjoy a new activity or you're here on vacation with your family, you can find affordable bike rentals with all of the gear you need for your excursion in one convenient place.
Bicycle Rental Accessories
Bikes aren't the only things you need for a successful bike outing. You still need a variety of gear, and our rentals include all of the accessories you need.
Helmet Rental
Protecting your head is a necessity when it comes to bike riding, so wearing a helmet is non-negotiable if you want to be safe. Each of our bike rentals comes with a helmet that is appropriately sized for the rider.
Tag-A-Long
If you're traveling with people who are unable to pedal a bike for any reason, you can always rent a tag-a-long so no one is left out. These tandem carts make it easy for everyone in the family to enjoy the scenic mountain trails.
Bike Trailer
Not sure how to tow your rental bikes to the area you want to ride in? No problem! Rent a bike trailer to carry your bikes and gear with no hassle.
Base Mountain Sports E-Bike Rental Locations
To make cruiser and electric bike rentals easy and convenient for you no matter where you are around the Colorado mountains, we have two store locations. You may schedule a rental at either of our store locations and return your gear to whichever location is closest when the rental is over.
Breckenridge, CO
Breckenridge may be a premier destination for summer outdoor recreation and a great spot for mountain biking trails. Stop in our store to pick up a bike rental and browse our vast inventory of great outdoor gear and accessories from brands you love and trust. If you are looking for mountain bike rentals in Breckenridge, CO, stop by Base Mountain Sports shop.
Beaver Creek, CO
Nestled at the base of the Colorado mountains, Beaver Creek is a quiet tourist town that has all of the same activities as Breckenridge with a calmer atmosphere. Visit our laid-back shop to choose the bike rental that best meets your needs and find great prices on the equipment you need to make your trip a success.
Whether you're visiting Beaver Creek or Breckenridge, you can find excellent options for electric and cruiser bike rentals at Base Mountain Sports. If you aren't sure which model best suits your needs, feel free to ask any of our staff members for recommendations, and we love to give trail advice, so you never miss out on any of the sights. Contact us today to schedule your bike rental at least 72 hours in advance of your trip so you can enjoy everything Colorado has to offer while you're here. We look forward to helping you plan the trip of a lifetime!
What Our Customers Are Saying
"Best shop in town! Prices are great, lots of gear options, friendliest and most knowledgeable staff, awesome shop dog… They got it all! The location is perfect for most of the condos and homes around Breckenridge."
Justin D.
"This place was awesome. I got a great deal on a full suspension bike rental. My back tire blew out on the first run down the mountain. I called the number on the bike, and they came over 10 minutes later and replaced the whole tire and tube. Then they gave me another awesome deal on a set of bindings for my nephews snowboard. I will definitely be back next year, and I will 100% go back to this shop. Great bunch of guys."
Ryan M.
"Rented bikes to roam around breck. Upon arrival we were greeted by Liz at base mountain, as recommended by a local. It was close to close, but Liz was very gracias and accommodating. Thank you base mountain for a great experience. Thanks for the customer service."
Katie E.
More from Base Mountain Sports
Featured Image: Moreimages/Shutterstock