Date: March 7, 2023
Categories: Blog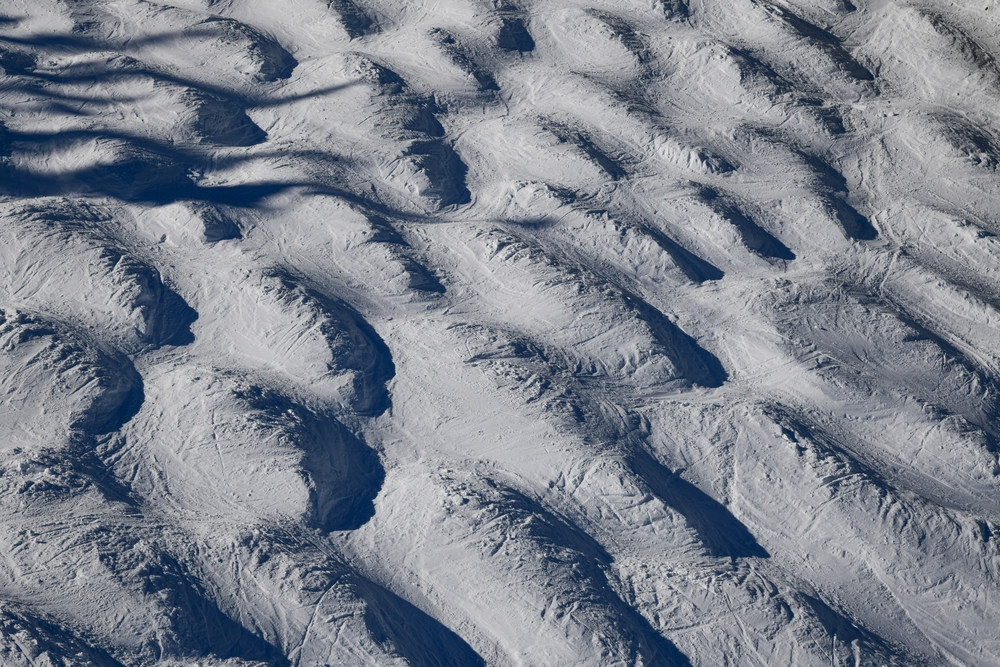 When it comes to snowboarding or skiing, moguls are fields of uneven bumps that provide a more challenging and textured terrain. Moguls tend to form when the ground is uneven at the time of snowfall, forming an uneven surface of the snow to ride over.
Knowing how to snowboard moguls is essential if you want to take on more natural terrain or up your skill level after mastering smooth paths. At Base Mountain Sports, we know all about moguls in the Colorado winter sports terrain. With a few smart tips, you can start taking on moguls and ride them like a pro.
Keep Your Knees Loose and Relaxed
Moguls are essentially a series of small, irregular mounds and dips. The best way to compensate and avoid getting jostled is to keep your knees loose and bounce with the moguls. Extend your legs and ankles in the dips, then allow your knees to pull up into a crouch as you go over the mounds. Try to keep your head and shoulders at about the same level, and you will soon find yourself riding moguls more smoothly and confidently.
Practice Pivot Turns
A field of moguls often makes it more difficult to maneuver with wide turns, so you will want to practice pivot turns instead. The pivot turns with your snowboard are accomplished by putting weight on your front foot and rotating the board with your back foot to quickly control the direction of your glide. You can practice at home with a towel under your back foot to get the hang of pivoting.
Traverse Moguls
Since moguls are a natural phenomenon, you can't stop them. But you can avoid them. Always choose a wider bath when figuring out how to snowboard moguls to give yourself time and room to react.
Moguls and Half-Groomed Tracks
If you are looking for a fun and useful way to introduce yourself to mogul snowboarding, try a half-track. Half-groomed tracks allow you to choose between the natural snowy terrain and a manicured bump-free space. Choosing a half-track can allow you to practice in moguls but in a controlled space where you can take breaks between bumps.
Vary Your Turns
The thing to know about how to snowboard moguls is that the ground will be highly irregular. You will want to plan your path ahead of time with a much wider line than usual. From there, learn to vary your turns from the usual leaning method to pivot turns to best navigate a mogul-riddled slope.
Confidence is Key
Most importantly, board with confidence. If you see moguls ahead, keep your cool and make a plan. Choose which mounds to go over and which to avoid. Know when you are about to stretch or crouch to get through and don't hesitate to make the right move. Successful mogul snowboarding is rough, so it requires commitment. Strong confidence can mean overcoming the mogul area with the best possible result.
Prepare for An Epic Snowboarding Adventure in Colorado
Thousands of people flock to Colorado every year and take to the slopes. With Base Mountain Sports, you don't have to carry all the gear you want to use; you can pick it up right here. 
From snowboards to your latest moguls adventure, you can find everything you need for your Colorado adventure at our locations in Breckenridge, Beaver Creek, Vail, and Wyndham Avon. Contact us today to book your snowboarding gear ahead of time.
Featured Image Credit: FashionStock.com/Shutterstock