Filled with well-packed snow and stunning mountain views, the Colorado Rockies are the perfect location if you want to try your hand at skiing. There are dozens of trails that wind through the mountains, so whether you are an avid skier or a beginner, you can find one that meets your skill level. If you want to plan an unforgettable ski trip, you need to know the best time to go skiing in Colorado. Here's what you need to know before planning your ski trip.
Skiing in Colorado in November- Early Season Starts
There's nothing quite like hitting the ski slopes at the beginning of the season. Many of the ski trails may be closed due to limited snowfall, but you'll still have plenty of terrains to explore. The biggest benefit of visiting Colorado for skiing during November is that the trails won't be super crowded at the start of the season, and you may even have the slopes all to yourself for a while if you hit them early enough.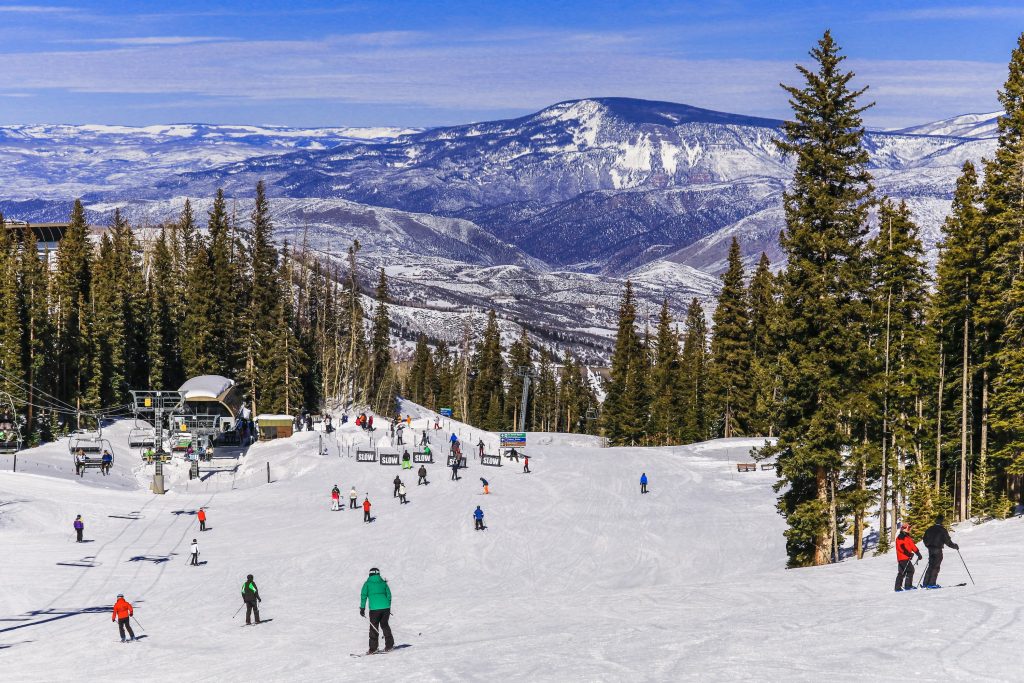 Skiing in Colorado in December
December is a magical month to hit the slopes, thanks to the holidays. Spending Christmas or New Year's Eve in Colorado makes the holidays even more exciting. Many resorts don't honor local ski passes during December, so the slopes will be less crowded than you expect. Between ski runs, you can visit whimsical holiday festivals, partake in fun holiday traditions, or sample delicious baked goods from community events. Twinkling holiday lights at every turn make for a truly unforgettable experience.
Skiing in Colorado in January- Mid-Winter Season Starts
January is the prime time for skiing in the Colorado Rockies. By this time, all of the trails have opened, and there is plenty of fresh, powdery snow to fill them. The slopes may be crowded, but the experience of skiing in fresh snow is unparalleled.
Skiing in Colorado in February
Second to January, February is the most popular month for skiing in Colorado. The trails are more crowded, especially on long holiday weekends such as President's Day, but there is plenty of room for everyone since all of the slopes are open. February typically brings more snowfall than any other month of the ski season making this month one of the most epic times to ski!
Skiing in Colorado in March- Spring Break!
If you're traveling with your kids, you probably want to plan your ski trip around a time when the kids are out of school. Spring break is the perfect occasion! The slopes are still open and packed with plenty of fresh snow in March. The temperatures are a little warmer, so if you don't like being cold, this could be the ideal time for you to ski in Colorado.
Skiing in Colorado in April
While April may be on the tail end of the Colorado skiing season, there's still plenty of fun to be had! Some of the trails are closed due to a lack of snow, but many of the most popular slopes are still well-packed with snow. In addition to admiring stunning spring foliage while you ski, you'll get to enjoy mild temps and may even be able to hit the slopes in a t-shirt instead of a jacket.
How To Choose the Right Time for Your Colorado Ski Trip
There is no right or wrong time to visit the Colorado Rockies during ski season. Each month has something different to offer in terms of crowds, temperatures, and skiing conditions, so it is important to take your individual preferences into consideration when planning your trip. If you want to take your kids skiing, you probably want to plan the trip while the kids have a break from school. December or March may be the better choice since kids are out of school for the holidays and spring break.
November or April may be the best choice for people who don't want to compete with other skiers on the slopes. The slopes aren't as crowded at the beginning and end of the season.
Similarly, if you want plenty of fun things to do after you hit the slopes, December is full of many holiday activities to help you stay busy. January or February may be best if you want to experience prime skiing conditions.
Which Colorado Ski Resort Will You Choose?
When you plan a skiing trip to Colorado, you need to book the right ski resort. There are many great ski resorts located throughout the Colorado Rockies. Choose one in a town that offers plenty of skiing opportunities.
Beaver Creek
The alpine town of Beaver Creek is full of things for the entire family to enjoy. Beaver Creek has something to offer everyone, from an interactive children's museum to a wide range of ski slopes. The notorious Beaver Creek resort has access to private ski lifts so you can hit the slopes easily every morning, and because the town is a popular skiing destination, there is no shortage of fun things to do.
Breckenridge
Breckenridge, Colorado, is a former mining town with a rich Gold Rush history. Nestled at the base of the Tenmile Range in the Colorado Rockies, the town is a popular skiing destination and has a worldwide reputation for year-round alpine activities. From hiking in the summer to skiing in the winter, Breckenridge is a great destination for any outdoor enthusiast at any time of the year.
Vail
Home to the popular Vail Ski Resort, Vail is a quaint town that is perfect for skiers who want a more laid-back atmosphere while hitting the slopes. The small town is located at the base of Vail Mountain and has a great shopping district in addition to a thriving outdoor recreation industry.
Avon
The small municipality of Avon is quiet, but it still has plenty of skiing opportunities. The town is perfect for people who prefer a little privacy while on vacation. The town sits at the base of Beaver Creek Resort and features easy access to numerous hiking trails, slopes, and biking paths. Avon has something for everyone.
Plan & Reserve Ski Rentals at Base Mountain Sports
If you want to spend time skiing in Colorado, it's essential to have the right gear. Base Mountain Sports has all of the rental gear you'll ever need to stay safe and comfortable on the slopes. We've been in business for more than 30 years and have a great reputation for providing outdoor enthusiasts with the high-quality gear they need to make the most of their time in the Colorado mountains.
We have several locations, all located near the popular ski resorts in the area. We also make renting gear easy by allowing you to return it to any of our locations. As outdoor enthusiasts ourselves, we can help you find the perfect gear that will make your time of the slopes truly unforgettable.
If you're planning a ski trip to Colorado, you need to rent high-quality gear to keep you safe. Trust Base Mountain Sports to provide you with great equipment from brands you love and trust. Browse our website to reserve your ski rental today.
Image Source: LanaG / Shutterstock