The Colorado Rockies offer plenty of recreational activities for outdoor enthusiasts with a passion for adventure. Whether you have lived here for years or just want to make the most of your time in Colorado, Base Mountain Sports is the place you need to go to find great deals on all of the gear you need to enjoy the great outdoors, including bike rentals and demos. In addition to a vast array of skiing and snowboarding gear, we provide bicycle rentals so you can enjoy the Colorado trails during the summer months. If you're looking for a bike rental so you can make the most of your vacation to Breckenridge, browse the bicycle rental options at Base Mountain Sports to find the perfect bike for you.
Types of Bicycles for Rent
We understand that bike riders have different skill levels. If you are booking Breckenridge bike rentals with your family or a group of friends, you may need different types of bicycles, so we carry a wide variety of options from three different categories.
Rent Mountain Bikes
We carry a range of mountain bike rentals in various styles, sizes and fits, allowing you to explore and ride in comfort! With hundreds of miles of single track, ranging from beginner trails to experts only, you'll find something for everyone. Ask our staff for maps and advice, we love helping guests explore!
Ideal for tackling tough trails, mountain bikes are built for endurance and off-road terrain. Our mountain bikes feature full suspensions, durable frames, and heavy wheels so they can safely navigate the trails. Our inventory includes great models like the Scott Genius for adult riders and the Scott Junior for kids.
DEMO MOUNTAIN BIKE
Scott Genius
Great on steep climbs and smooth on the downhill. Suspension is outstanding and makes for a very comfortable ride. A trail bike built to get you up, down, and all over the mountain!
0-4 Hours – $65.00
4-8 Hours – $75.00
Multi-Day – $70.00
MOUNTAIN BIKE
Scott Jr Mountain Bike
A great cross country bike for your young rider. It looks fast, and rides extremely efficiently under the power of little legs.
0-4 Hours – $20.00
4-8 Hours – $30.00
Multi-Day – $25.00
Contact Breckenridge – South Park Avenue at 970-453-6405 for reservations
Style and Comfort for all of your adventures!
Looking for a some padded shorts or dress that can go from hiking fourteeners to dinner in town? Check our our great selection of mountain apparel! From tough and rugged to mountain casual, we've got you covered from head to toe. Shop online or swing by our Beaver Creek or Breckenridge shops for our best selections.
Rent Cruisers & Electric Bikes
Explore our mountain towns on a bike and live like a local with cruisers or electric bike rentals. A great way to do some shopping, grab a drink and see the town.
If you prefer to enjoy the stunning Colorado scenery by biking on the road rather than tackling a trail, a cruiser bike could be the best option for you. These models are sleek and lightweight, with a dropped seat and handlebars that curve downward. Our available models feature narrow tires for a smooth ride.
An electric bike is a model that allows you to cover the ground with minimal effort. Using new technology, these bikes mimic pedaling so you can keep traveling even when you are out of energy. These models are best for riding on local roads.
CRUISER/PATH BIKE
Scott Sub Speed
A fun versatile bike that can handle paved roads and paths featuring a supportive Scott seat for ride-all-day comfort.
0-4 Hours – $35.00
4-8 Hours – $45.00
Multi Day Use – $40.00
ELECTRIC BIKE
Rossignol E-Track 27+
A hardtail electric-assist mountain bike that features incredible performance for both easy climbing and aggressive descending, making for another best day on the mountain.
4-8 Hours – $80.00
Multi- Day – $75.00
Contact Breckenridge – South Park Avenue at 970-453-6405 for reservations
Rent Bike Accessories
Safety is important whether you are riding a smooth road or a treacherous trail. With every Base Mountain Sports bike rental, we'll provide you with a helmet so you can stay safe and protected while riding. We also provide locks, so you don't have to worry about your rental bike being stolen when you stop for lunch. Our store stocks a wide variety of clothing and protective gear, so if you need additional accessories for your bike ride, you can find them easily.
HELMET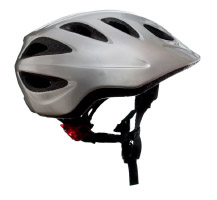 Bike Helmets
Included with Bike Rental.
TAG-A-LONG
2 Hours – $30.00
4 Hours – $40.00
8-10 Hours – $55.00
24 Hours – $65.00
BIKE TRAILER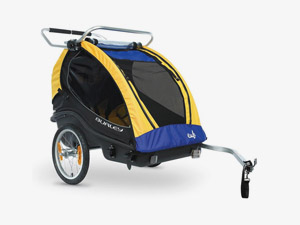 2 Hours – $30.00
4 Hours – $40.00
8-10 Hours – $55.00
24 Hours – $65.00
Contact Breckenridge – South Park Avenue at 970-453-6405 for reservations
Bike Rental Information
At Base Mountain Sports, we want to help you make the most of your outdoor excursion. With a variety of bicycle types to choose from, we carry a mode suitable for every skill level. We have hundreds of miles of trails to ride on, ranging from smooth beginner to treacherous advanced terrain, so we have something to offer everyone. Feel free to ask any of our staff members for trail advice or recommendations. As outdoor enthusiasts ourselves, we have used many of the products we carry and love to advise you to help you enjoy the trails through the Colorado mountains. 
Bike Rental Locations and Hours
Base Mountain Sports offers bike rentals in both our Beaver Creek and Breckenridge locations. You can book a rental for a full day of bike riding, or you can rent a bike for half a day. You can even get a discounted price for booking a multi-day rental. Our shops are open from 10 A.M. to 6 P.M., so you have plenty of time to book a bicycle rental for your trip.
Base Mountain Beaver Creek
Beaver Creek is a small Colorado tourist town that is nestled at the base of the Colorado Rockies. Not only is this quiet town a popular tourist attraction for its array of skiing and snowboarding slopes, but it also boasts hundreds of miles of bike trails to cater to every skill level. This location carries a wide array of gear for outdoor enthusiasts so they can enjoy their time here in the Rockies. Not only can you find great bike rentals in our store, but you can also find great deals on an array of other accessories. 
Base Mountain Breckenridge
While Breckenridge is most well known for its ski slopes, it is also a great place for biking. The entire family can enjoy beautiful mountain trails or take in the gorgeous scenery by biking on one of the winding Colorado roads. When you pick up your bicycle rental at Base Mountain Sports, browse our store inventory to make sure you have all of the gear necessary to enjoy your excursion. With great deals and a large inventory, we know that the products we carry are high-quality and can help you make the most of your trip.
Booking a bike rental in Breckenridge is a great way to enjoy the gorgeous Colorado scenery while getting fresh air and exercise. Whether you are visiting Breckenridge or Beaver Creek during the off-season for skiing or just want to try out a different recreational sport, give biking a try. Base Mountain Sports offers bike rentals in two convenient locations, so you can rent one wherever you are. Browse our available bikes online to book a rental, or contact us today to ask about our inventory so you can enjoy riding the trails while you are in Colorado.
Our Customer Reviews
"Best shop in town! Prices are great, lots of gear options, friendliest and most knowledgeable staff, awesome shop dog… They got it all! The location is perfect for most of the condos and homes around Breckenridge."

Justin D.
"This place was awesome. I got a great deal on a full suspension bike rental. My back tire blew out on the first run down the mountain. I called the number on the bike, and they came over 10 minutes later and replaced the whole tire and tube. Then they gave me another awesome deal on a set of bindings for my nephews snowboard. I will definitely be back next year, and I will 100% go back to this shop. Great bunch of guys."
Ryan M.
"Rented bikes to roam around breck. Upon arrival we were greeted by Liz at base mountain, as recommended by a local. It was close to close , but Liz was very gracias and accommodating. Thank you base mountain for a great experience. Thanks for the customer service."
Katie E.