Date: September 25, 2022
Categories: Blog
As you read about skiing and snowboarding in Breckenridge, you'll learn:
What all Breckenridge has to offer
About the mountain trails and how to choose the right slope for you
Where to find high-quality rental gear for skiing in Breckenridge
The Colorado Rockies are a great vacation destination for any outdoor enthusiast. People who enjoy winter sports or who want to try their hand at new recreational activities like skiing and snowboarding may find Breckenridge, Colorado, their dream vacation spot. Nestled at the base of the Colorado mountains, the town of Breckenridge features a wide variety of slopes for every skill level. Whether you are new to skiing or an experienced snowboarder, you can find something to do here in Breckenridge. Here's everything you need to know to make the most of your time here.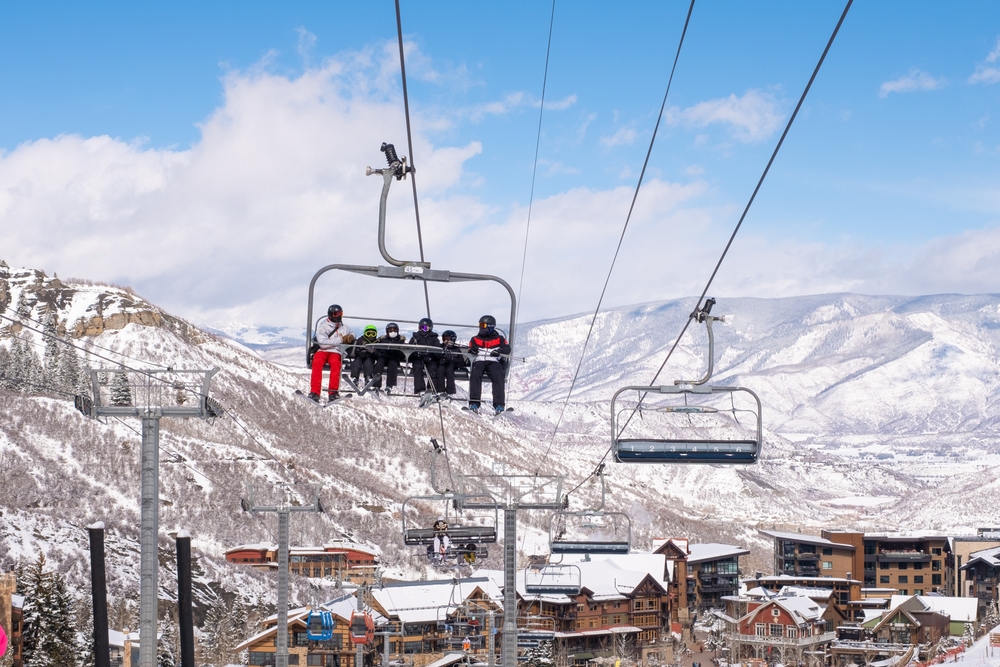 Where Can I Rent Ski and Snowboard Gear?
There's no need to buy new gear for skiing and snowboarding gear when you're visiting Breckenridge for vacation. You can spend a lot of money on gear you'll only use once, or at most, a couple of times a year, or you can rent the equipment you need to hit the slopes. Base Mountain Sports rents out all of the gear you need to hit the slopes, and our retail stores also carry the clothing and accessories you need to stay comfortable while tackling various recreational activities.
We make it easy for you to find the gear you need by having five rental locations for you to choose from. Rent from one location and return it to any of the others so that you can hit various slopes in the area. Stop by any of the following locations to rent or return skiing and snowboarding equipment.
Breckenridge
Vail
Avon
Wyndham
Beaver Creek
The Slopes
When you're skiing in Breckenridge, you have access to a wide variety of slopes. The town features a total of 187 trails spread over five mountain peaks, known as Peaks 6, 7, 8, 9, and 10. The cold temperature and the above-average snowfall of the Breckenridge mountains mean that the trails down the mountain are fast and safe, and there's a trail suitable for every skill level.
Visit one of the slower slopes if you're bringing your kids on their first skiing trip. They'll have a chance to master their skills on a shorter slope before taking on longer runs. Experienced skiers and snowboarders can tackle longer trails with steeper slopes for faster runs. The most adventurous athletes can take on the 3.5-mile trail known as Four O/Clock. This is the longest slope in town and is sure to give you a thrilling experience.
Regardless of which slope you choose to tackle, you can access it easily. If you're worried about trekking up the mountain to begin a ski run, look for one of the 34 ski lifts located throughout Breckenridge for assistance.
Lodges
There are many places to stay in Breckenridge. If you plan to spend almost all of your time out on the slopes browsing through the many fun shops downtown, you may prefer to stay at a ski resort. Many of the resorts also have ski lifts on-site to make getting to the top of the mountain peaks easy.
Many rental options are available for people who prefer to stay in a quiet destination, such as a condo or a cabin, along with the mountain runs. Staying at one of these destinations gives you a quiet place to relax after spending a day on the slopes. Relax by a peaceful fire with your significant other, spend the evenings playing board games with your friends, or cozy up wiy=th your kids to read before bed.
Snacks and Refreshments
As a popular tourist town, Breckenridge is home to many restaurants. No matter which type of cuisine you are in the mood for, there is a dining establishment to cater to your craving. From a casual seafood dish to an elegant four-course meal, you can find the food you're looking for.
If you prefer to buy groceries and cook for yourself in the comfort of your rental cabin, you can shop at any one of several grocery stores to find the products you need. There are several chain stores in the region, or you can shop at one of the natural food stores in Breckenridge.
You also have a way to fuel up while in the middle of a run down the slopes. There are several service stations located halfway up the mountains. Not only do these stations provide restrooms, but they also have cafes where you can warm up with a hot beverage or fuel up with a snack.
The Gear
Along with skiing and snowboarding equipment, you need to have the right gear for a successful excursion on the slopes. There are many small shops in Breckenridge that allow you to buy clothing that will keep you warm on the slopes, but you can also stop in the retail stores of rental companies such as Base Mountain Sports. We can provide you with all of the gear you need for a successful run, including items from the following categories:
Boots
Helmets
Clothing
Protective pads
Backpacks
Goggles
Feel free to bring your own cold-weather gear to tackle the slopes in style. However, it's important to know that the mountain peaks in Breckenridge reach 13,000 feet, meaning that they are the tallest ones in the area. This means the temperature at the top of the peaks may be colder than what you're used to, so make sure you bring plenty of clothing for layering.
Lift Tickets
If you want to make sure you have access to ski lifts that can get you to the top of the mountains quickly and easily, it's best to purchase ski lift tickets. There are 34 lifts located throughout town, and if you buy a multi-day pass, you have easy access to all of them. These passes are even good for neighboring towns so you can try different slopes.
Getting Around
Whether you're staying in a resort in downtown Breckenridge or in a cabin outside the village, getting around town is easy. Almost all housing options are within a 15-minute walking distance to town, meaning you don't need a car to get around. If you do decide to rent a vehicle for convenience, choosing one with front-wheel drive is sufficient. You don't need four-wheel drive because the roads are well maintained. There are even shuttles to carry you to different parts of town as needed.
Breckenridge, Colorado, is a prime skiing destination that is located just 90 minutes from the Denver International Airport. Whether you plan to spend all of your time on the slopes or also want to enjoy a lively tourist town, this destination has something to offer everyone. It is also home to Base Mountain Sports, a ski and snowboard rental company that has been in business for more than 30 years. If you're planning a trip to Breckenridge, browse our website now to book rental equipment for skiing and snowboarding. You can also stop by our store to see our available options in person.
Image Source: Jacob Boomsma / Shutterstock
Reserve Ski & Snowboard Rentals in Breckenridge at Base Mountain Sports
More from Base Mountain Sports