Date: September 23, 2022
Categories: Blog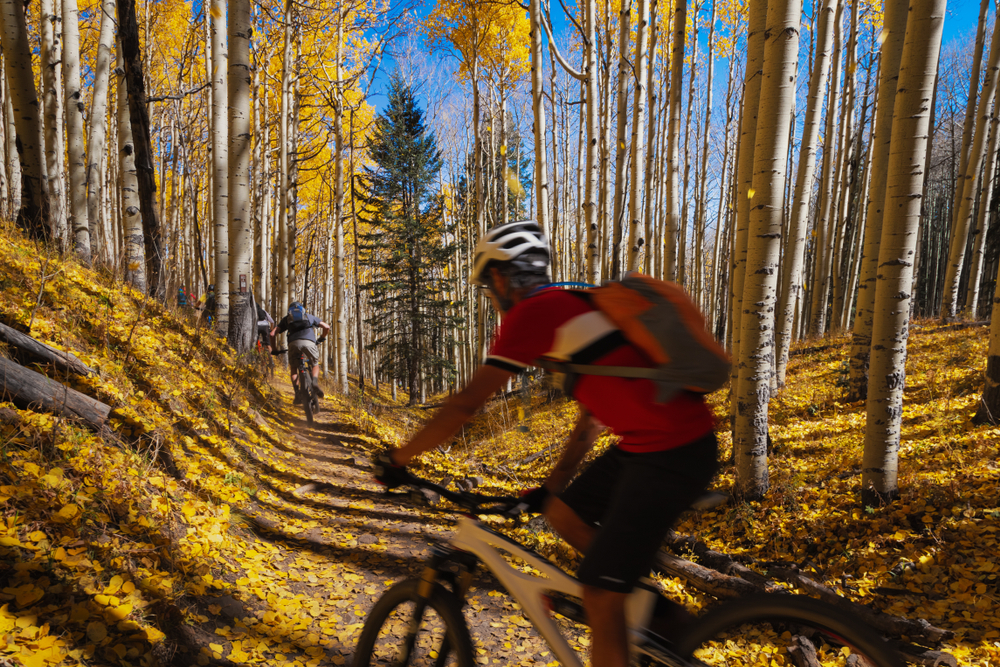 While there are dozens of fantastic mountain biking destinations worldwide, Colorado is revered by mountain bikers everywhere. Whether it is beautiful cityscapes or the countless pop culture references to locations like Vail, Aspen, and Breckenridge, Colorado is a must-visit for every mountain biker. In addition, there are numerous alternative trails for riders in Colorado throughout the summer and fall.
Best Mountain Bike Trails near Breckenridge
Mountain bike vacations to a Rocky Mountain destination like Breckenridge are popular, with access to some of the region's most remote terrain and evocative landscapes. Breckenridge features aspen trees, gorgeous mountains, a flowing mountain trail system, and rugged traverses, so everyone has a path to explore. Discover the best mountain bike paths in Breckenridge below.
The Wheeler Trail winds through the 10 Mile Range above the Colorado communities of Breckenridge, Frisco, and Copper to the east and north, respectively. With a few 12,000-foot passes, this summit county trail tests your abilities and rewards you with excellent inclines, descending technical challenges, and a breathtaking adrenaline rush.
The Colorado Trail is another excellent route in the region. This 20-mile trail is recommended for expert riders or cyclists with advanced mountain road and cycling skills. The Colorado Trail extends from Denver to Durango and is a state landmark. The Breckenridge segment features steep ascents through tricky terrain, which can be difficult in wet conditions.
Vigilant riders can navigate this route's exposed roots, tight corners, and thrilling single-track design. The trail can, at times, be highly exposed and become hazardous during heavy weather. On this journey, it is essential to bring safety equipment and appropriate gear, such as additional warm layers, well-fitted cycling clothes that avoid chafing and wick sweat, and emergency drinks and food.
Breckenridge's B-Line trail is renowned for its jumps and berms. This trail goes downhill, but some parts of the trail allow you to ride uphill without worrying about downhill cyclists. This trail concludes in town at Carter Park, the perfect place for a post-ride meal. Because it connects to different bike routes around Breckenridge, B-Line is an excellent track for those who like to explore.
Riders can find a series of wooden structures, berms, and jumps on the B-Line. It's a great fit for adrenaline seekers and thrill-seekers. However, there is also space to go around more extensive features on a more leisurely part of the trail.
Best Mountain Bike Trails near Beaver Creek
Several factors distinguish the mountain riding at Beaver Creek:
The trails are rarely crowded.
The terrain is broad and undulating, with a single track for all skill levels.
The aspen forests surrounding the area provide breathtaking scenery.
The mountain views are unparalleled.
Quick & Fun Mountain Bike Trails Near Beaver Creek
Lost Buck, a gravel road, leads from Beaver Creek Village up to the Village to Village Trail. Turn left and ride uphill to Allie's Way at the Birds of Prey chairlift base. Ride for the next 1.5 miles through a lovely aspen forest. Take a short stretch of Cinch, then Aspen Glade, which skirts the eastern perimeter of the ski area, and the Village Loop back to the base. The roughly 6-mile journey takes about an hour and provides an excellent overview of the mountain's lower slopes.
For an Epic Mountain Bike Ride Near Beaver Creek
From Beaver Creek Landing (park in the adjacent Elk lot), climb Elkhorn for a distance of 2.5 miles and an altitude gain of 1,200 feet. Connect to the Village to Village trail, then climb towards Allie's Way. On the same trail, roughly one mile further uphill from Cinch, is the entrance to Paulie's Plunge. This 1.7-mile, advanced-level Forest Service trail descends over 1,200 feet over cliffs, rock gardens, and roots.
You will connect with the Eagle-Vail Trail, a 2.2-mile stretch of terrain between the ninth and tenth holes in Eagle-Vail, a residential golf enclave that includes the childhood home of Olympic skier Mikaela Shiffrin. The Eagle Valley Trail provides a leisurely ride back to the starting location.
Prepare for Adventure in Colorado
Whichever trail you pick to explore, have fun! Always check the condition of your mountain bike to prevent incidents en route. Wear a quality helmet to protect your head and bring sufficient water and nutritious food to maintain your energy levels during your ride.
If you do not own a mountain bike or any gear and still wish to go mountain biking, Base Mountain Sports is the place to find excellent deals on all the required equipment. In addition, we offer rental services on quality mountain bikes and gear in Colorado. Contact us to schedule mountain bike rentals or for any inquiries.
Image Credit / Shutterstock / Pritha_EasyArts